Calf transport
Public scandal
In spring of 2019, VGT documented illegal transports to Spain, showing that authorities, official veterinarians and transport companies systematically violate the law.
The calves from the dairy industry are just a few weeks old when they are collected from all over Austria and loaded onto large long-distance transporters in Bergheim, Salzburg. The officially stamped transport documents state 18.9 hours, which is extremely tight given the maximum of 19 hours journey time. As a resting place after 9 hours the city of Savona is registered in the log – however without an exact address.
Journey time exceeded – inadequate care
For example, a transporter was on its way for over 22 hours from Bergheim to Vic in Spain. VGT campaigners documented the entire journey. They note that the stop in Savona, Italy, is simply ignored. Shortly after the motorway exit, the truck stops for one hour. They have to assume that the legal obligation to check and water the calves, who still drink their mothers' milk, will not be compled with as the automatic watering systems in the truck are not suitable for unweaned calves.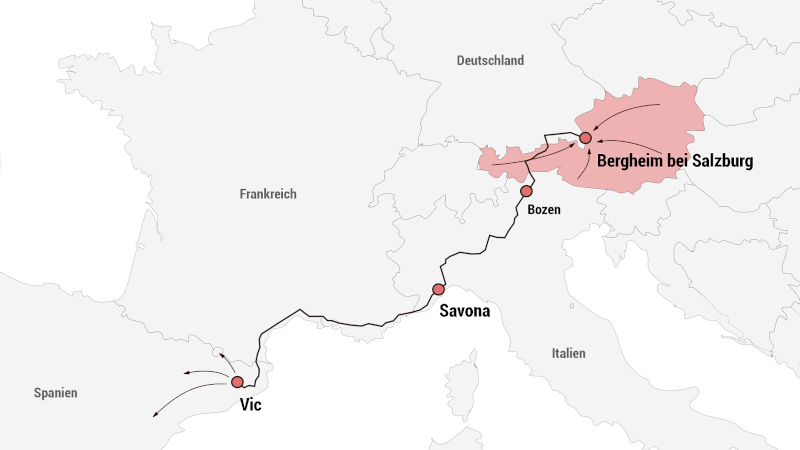 Multilayered criticism
VGT campaigner Tobias Giesinger: We are shocked by the conditions during transport. Not only is the already unbelievably long legal transport time of 19 hours exceeded, but not even the minimum requirements for the calves' welfare is being provided. These animals are babies!
Also the responsible authorities will have to explain themselves. Giesinger continues: The responsible official vet should have noticed several inconsistencies. Firstly, it is not possible to take care of unweaned animals on the transporter, which is why they would have to be unloaded after 9 hours at the latest. The official vet must therefore assume that there is an official control point at the specified place of rest, as animals may only be unloaded there. There is no address to check this. In addition, an hour's break would never have been enough to unload the calves, give each of them a drink and then reload them. Secondly, the driving time alone can only be achieved if the truck constantly exceeds the speed limit - the plausibility check should have clearly shown this. These transports should therefore not have been permitted in the first place.
Charges filed – changes demanded
The VGT has filed charges for all documented violations at the same time as demanding that at least the existing laws are observed, so that such gross and presumably extremely frequent infringements cannot occur in the first place – several transport documents available to the VGT suggest this is the case. It can even be assumed that official veterinarians and authorities have been signing the documents from transport companies for years despite obvious unrealistic statements and thus knowingly contribute to the suffering of the animals. Without these legal grey areas, such transport would probably not be possible.